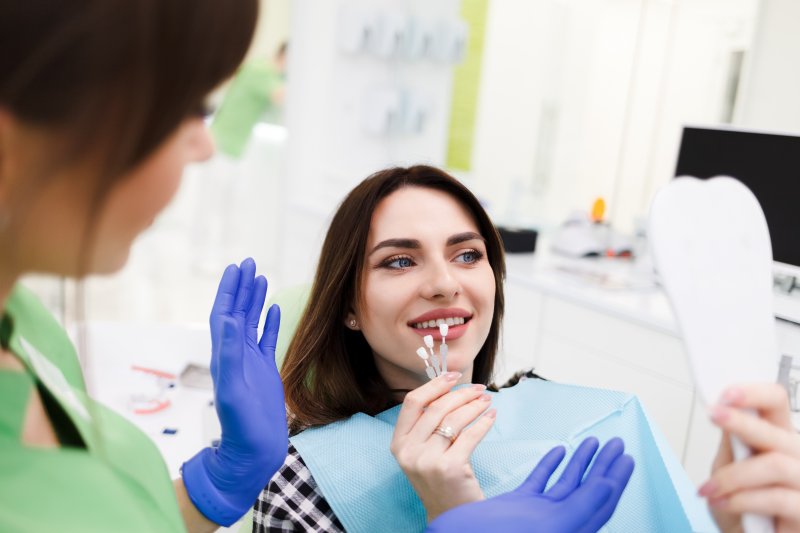 If you have multiple dental imperfections, you may be tempted to hide your teeth every chance you get. Believe it or not, issues like staining, discoloration, chips, cracks, gaps, and misalignment can negatively affect your overall quality of life. Thankfully, your cosmetic dentist offers veneers in North Attleboro to help disguise or eliminate these flaws. Before committing to treatment, you likely want to know what your journey will look like. Continue reading for a step-by-step breakdown of the veneer process!
Initial Consultation
The first step on your journey towards your newly improved smile is a consultation with your cosmetic dentist. They'll perform an oral examination, review your medical history, and inquire about your goals to determine whether or not veneers are right for you. Since these restorations are highly customizable, each porcelain shell will be created based on your personal preferences and facial characteristics. If desired, you can take some example photos to your appointment to show your dentist what you want your results to look like.
Preview Your Smile
Your dentist may use a model of your teeth to help you visualize what your smile will look like after your treatment. Another way they might preview your results is by attaching acrylic veneers directly to your teeth. It's considered the ideal method because you actually get to see what you would like with your new and improved grin. Make sure you provide your dentist with feedback so they can adjust the design of your veneers accordingly.
Teeth Preparation
Once you're satisfied with your trial run, your teeth will be prepared for the new veneers. Your cosmetic dentist will remove a thin layer of natural enamel to ensure your veneers adhere properly to the underlying teeth. Don't worry – it's only a minimal amount of tooth structure that's filed away! It's a necessary step to prevent the veneers from looking bulky or unnatural.
Crafting Veneers
After your teeth are prepared, your dental team will take impressions and send them off to a trusted dental laboratory. There, a team of experienced technicians will create your veneers using high-quality materials. While you wait for your final veneers to be ready, you'll wear temporary ones to protect your prepared teeth in the meantime.
Final Veneer Placement
Lastly, when your permanent veneers are created, you'll return to the office for their placement. This step involves using a special type of cement that creates a secure and durable bond. More often than not, it would take a dental drill or laser to remove them. At the end of your appointment, you'll be able to enjoy your brand-new smile and put it to use!
Ready to transform your pearly whites? Contact your dentist and schedule a consultation. Your dream smile is only a phone call away!
About the Practice
At Attleboro Dental Group, we provide high-quality, personalized, and compassionate dental care unlike anywhere else. Our team is passionate about helping every patient achieve their very best smile. If you want to transform several different aspects of your grin at once, we can do just that with veneers. To schedule a consultation and discuss the veneer process, visit our website or call (774) 331-0260.