Orthodontics – North Attleboro, MA
Clear Solutions for Straighter Teeth
Metal braces were once the only viable orthodontic solution. When crooked, gapped, or misaligned teeth needed treatment, protruding brackets and wires were applied, leaving patients to spend years wearing a mouth full of metal and enduring much discomfort. Fortunately, there are now alternatives that make orthodontic treatment less noticeable and more enjoyable. With Invisalign or ClearCorrect, our team can equip teens and adults with straighter smiles without compromising daily appearances. Contact us to learn more about clear braces orthodontics from our North Attleboro, MA cosmetic dentist.
Why Choose Attleboro Dental Group for Orthodontics?
Mess-Free Digital Impression System
Clear Aligners for More Subtle Treatment
Dental Insurance Welcome & Financing Available
Invisalign® Clear Aligners
Invisalign clear aligners are a unique alternative to traditional metal braces. Made using SmartTrack technology, they produce predictable results and more comfortable trays, making for a more positive patient experience. When worn 20-22 hours each day, patients can expect to see their teeth move into proper alignment, resulting in a straighter smile in 12-18 months (on average). With Invisalign, our dental team can keep your orthodontic treatment a secret while improving your oral health.
ClearCorrect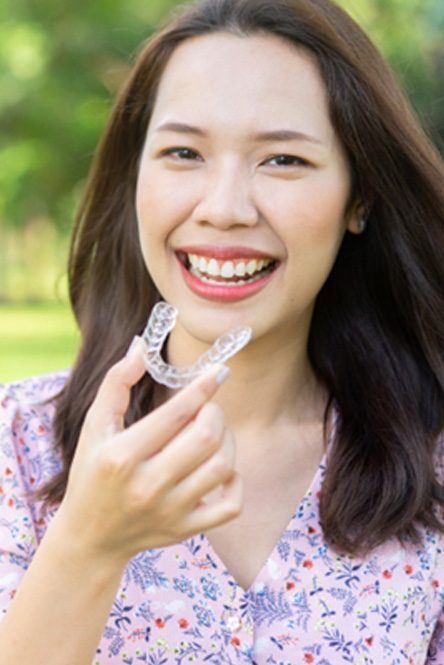 Similar to Invisalign, ClearCorrect also uses clear aligners that are customized to fit your teeth as they shift into proper alignment. Made in the U.S. with the highest quality materials, they are affordable and can produce results in eight to 18 months. Knowing whether ClearCorrect is right for you requires an initial consultation with a member of our team. After evaluating your teeth and bite, we will determine whether Invisalign or ClearCorrect can help you achieve a straighter smile.