Dentures – North Attleboro, MA
Erase Your Worries About Missing Teeth
According to the American Academy of Prosthodontists, nearly 140 million people are missing one or more teeth. If you're a part of that statistic, you know from experience how much tooth loss can affect your overall quality of life. Fortunately, you don't have to live that way forever! Our practice offers state-of-the-art and personalized dentures in North Attleboro to help you regain full function of your teeth. To find out of this tooth-replacement option is right for you, continue reading or give our office a call today for personal assistance.
Who is a Good Candidate for Dentures?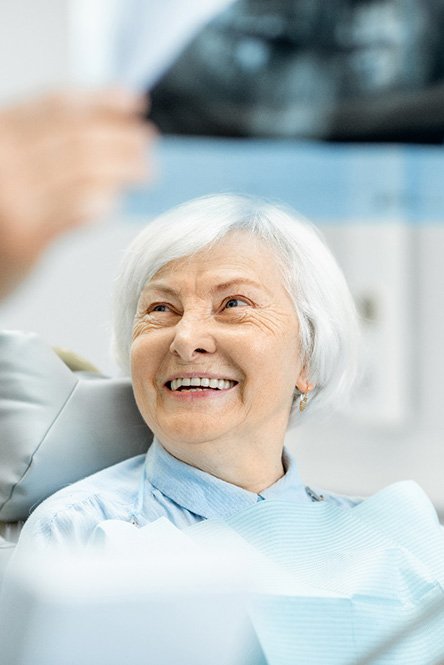 Patients missing several teeth or an entire arch may be good candidates for dentures in North Attleboro. The only way to know for sure whether or not you're eligible for this method of tooth replacement is by attending a consultation with our team. During your initial visit, we'll review your medical history and perform a thorough oral examination to determine your candidacy. If there are any existing oral health issues like tooth decay or gum disease, they'll need to be addressed first before you can move forward with the denture process.
Types of Dentures
Dentures are one of the most traditional solutions for missing teeth, and there's a very good reason for that! Not only can they improve your appearance, but they allow you to regain full function of your smile once again. Based on your discussion at your consultation, our team will recommend one of the following treatment options:
Partial Dentures
Partial dentures only replace some of the teeth. The gum-colored base and custom artificial teeth are attached to your remaining teeth with a clasp. They effectively complete your existing smile, giving you a beautiful and fully functioning grin.
Full Dentures
Are you missing an entire row of teeth? You may want to consider getting full dentures! They're the ideal choice because they're discreet and are often held in place with natural suction, denture adhesive, or a mixture of both.
Implant Dentures
If you want a more stable solution, you can opt for implant dentures. Your custom teeth are attached to dental implants that are surgically inserted into the jawbone. Because of their unique placement, you can enjoy maximum stability and avoid unwanted movement.
The Benefits of Dentures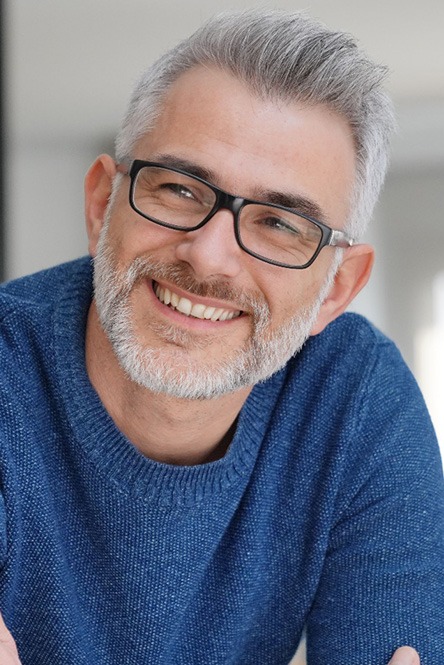 Choosing to replace your missing teeth with dentures in North Attleboro will allow you to reap several incredible benefits. Some of those include:
Cost-effective tooth-replacement solution
Fully restored bite, allowing you to chew with ease once again
Completely customized treatment
Ability to last a decade with proper maintenance
Easy cleaning
Maintain a youthful facial appearance
Denture FAQs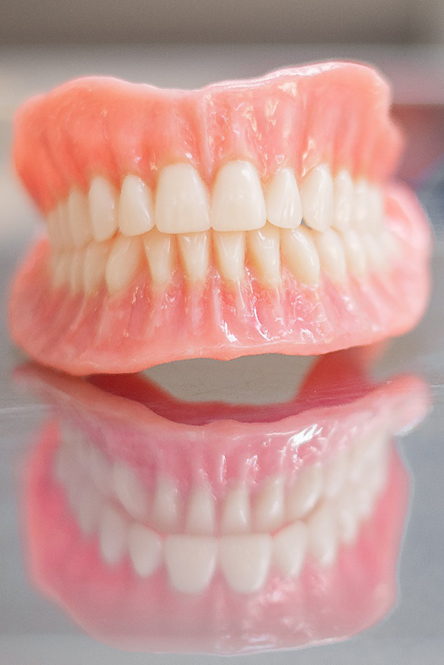 If you're struggling with missing one, several, or all of your teeth, you aren't the only one. Tooth loss has affected millions of Americans, but this doesn't mean you should have to live with gaps in your smile. Dentures are one of the most popular and reliable solutions for this issue, and it's natural to want to know more about the treatment before committing to getting them. That's why our team at Attleboro Dental Group has collected and answered some of the most commonly asked questions our patients have about these restorations. Read along or give us a call today to learn more about dentures in North Attleboro!
Will It Hurt to Get Dentures?
If you require tooth extractions before getting your restorations, then you'll likely experience mild discomfort for a few days after your oral surgery. Be sure to take your prescribed pain relievers as instructed and use a cold compress to help alleviate discomfort. Your symptoms should improve after three to five days of your appointment. When first receiving your dentures, it's normal to feel some minor irritation as your mouth gets accustomed to your new teeth. The length of time for this adjustment process will vary from patient to patient. This step may also take longer if you're transitioning to a new pair of dentures. If any discomfort persists or worsens over time, be sure to visit us so that we can address the underlying issue.
Should I Have All My Teeth Pulled to Get Dentures?
Our team will prefer to repair any damaged teeth before considering pulling them out and replacing them completely. However, if keeping a tooth isn't a viable option, such as one that is beyond repair or heavily infected, then we may recommend extraction as a last resort. Should you have an entire arch that is either decayed or infected, removing your teeth may be the more cost-effective decision in the long run. Rest assured we'll thoroughly explore all alternative options before moving straight to pulling out any pearly whites.
Will Dentures Change the Shape of My Face?
Whenever you lose teeth, your facial muscles and structure will begin to deteriorate over time, resulting in a more aged or sunken appearance. Wearing dentures will effectively restore your smile while also providing support to the muscles that have collapsed. This should help improve your appearance, especially if your restorations are properly fitted. If you notice your dentures aren't fitting correctly, make sure to see our team for adjustments or a replacement. Not only will ill-fitting dentures not offer the proper support for your facial structure, but they'll also more likely shift out of place when eating and talking.
Can I Sleep with My Dentures?
Although this is possible, we highly suggest that you always remove your dentures before going to bed. You'll have to wear your restorations for 24 hours after first receiving them, which includes sleep. After that, you should be taking them off every night. Each time you wear your dentures, they'll restrict the circulation in your gums, which typically results in soft tissue irritation or even speeds up ridge resorption. By removing them overnight, you give your gums a chance to recover and receive the essential nutrients to keep them strong and healthy. This also helps prevent bacteria from accumulating and growing underneath your dentures, which can lead to higher risks of pneumonia. To avoid any complications, it's best to simply take them out and soak them while you sleep.