Implant Dentures – North Attleboro, MA
Rebuild Your Entire Smile with Sturdy Dental Implants
One of the reasons why dental implants have become the new gold standard for replacing teeth is that they can be used in a variety of situations. Even if all of the teeth in your upper or lower arch are missing, dental implants can be used to rebuild your smile. Our in-house specialist, Dr. Cifuni, can personally place implant posts and restore them with fully personalized dentures. Call today to learn more about implant dentures and why they might be your best choice for extensive tooth replacement.
Why Choose Attleboro Dental Group for Implant Dentures?
In-House Specialist That Can Place Dental Implants
State-of-the-Art Cone Beam Imaging
Long-Lasting, High-Quality Dental Prosthetics
What Are Implant Dentures?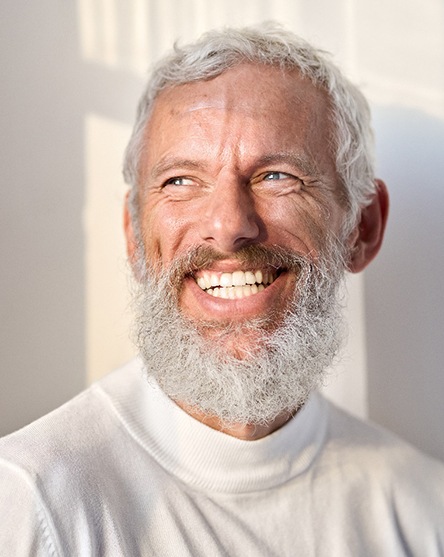 A traditional denture sits on the gums and uses natural suction to stay in place. Meanwhile, implant dentures stay anchored to the jawbone thanks to dental implant posts, which are essentially prosthetic tooth roots. Attaching dentures to dental implants helps them feel and function more like your natural teeth, and there's no risk of them slipping in your mouth. We will recommend either fixed implant dentures or removable implant dentures based on what your smile needs.
Fixed/Permanent Implant Dentures
A fixed implant denture stays in your mouth for 24 hours a day and can't be removed except by a trained dental professional. Many patients prefer this option since it means their new teeth can be brushed and flossed the same way as their natural ones. However, fixed implant dentures require more implant posts to support them and thus require a higher level of bone density in the jaw.
Removable Implant Dentures
A removable implant denture can be taken out of your mouth at any time. The main advantage of this type of denture is that not as many implant posts are required, so it can be a better option for patients with less jawbone density. Keep in mind, though, that you will need to take out your dentures for daily cleanings.
The Implant Denture Process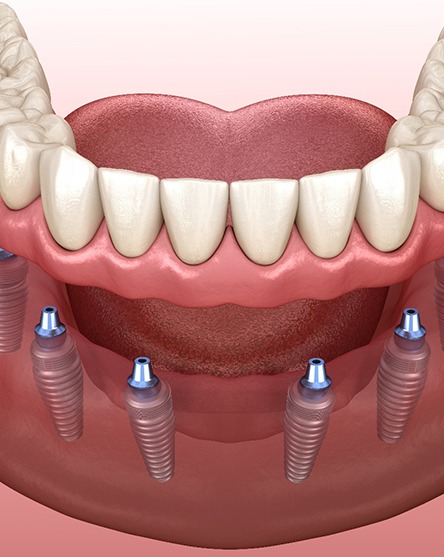 The first step of the implant denture process is to schedule a consultation at our office. Our team will evaluate your mouth to make sure there aren't any oral health issues that would prevent you from having dental implants placed. We'll also need to confirm whether a bone graft will be necessary to prepare for the surgery.
Dr. Cifuni will handle the surgery to place the implant posts in your jaw. After about three to six months, the posts will have integrated with the bone, allowing us to attach connector pieces called abutments. Once your dentures have been crafted, we'll use the abutments to attach your new teeth to the implants.
Am I a Candidate for Implant Dentures?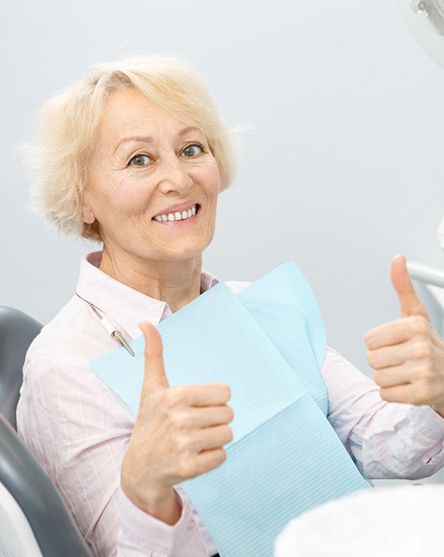 This is a question that we'll only be able to answer at your initial consultation once we've completed an examination of your mouth and reviewed your specific needs. To be considered a good candidate for implant dentures, you will need:
To be healthy enough to have minor surgery done.
To have enough jawbone density for the type of implant denture you want.
To have a mouth free of cavities and gum disease.
To be willing to undergo any preliminary procedures that might be necessary before you can get dental implants.
Benefits of Combining Dentures & Dental Implants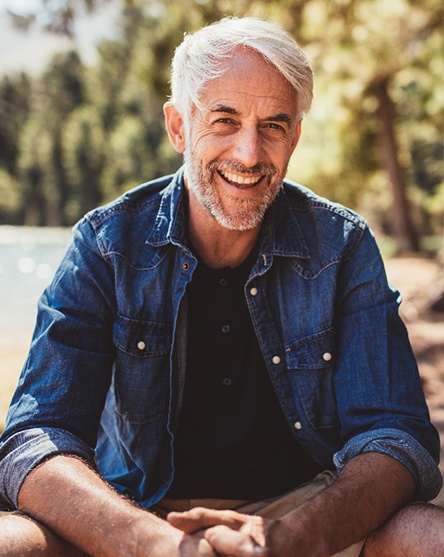 Traditional dentures certainly still have their advantages, but there are plenty of benefits that you can only enjoy with implant dentures, such as:
Enough biting force to enjoy almost any kind of food.
New tooth roots that will help prevent bone loss.
Implant posts that can last a lifetime with minimal maintenance.
A new smile that looks and feels very natural.