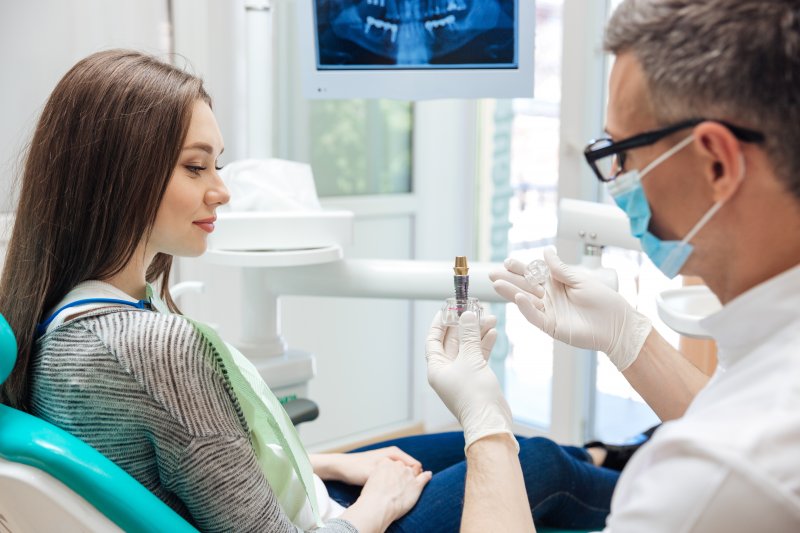 If you've just gotten your dental implants, you're probably thinking that once you've healed, you'll be invincible. They can certainly improve your life for decades to come, but, sadly, they don't last forever. Not to mention, your dental implants' lifespan only gets shorter if you don't know how to take care of them. It's best to learn a little bit more about how long dental implants last, and how to keep them around for as long as possible. With that in mind, here are some answers to some of the most common questions about dental implants' lifespan.
How Do Dental Implants Work?
To learn how implants fail, you should know how they work in the first place. They come in three parts:
The crown, also called the restoration, is the top piece meant to replace the visible portion of your missing tooth. These are usually made from porcelain and connect directly to the abutment.
The abutment is the component that holds your dental crown securely in place and connects it to the implant.
The implant itself is a thin titanium post that is inserted into the jawbone.
How Long Can Implants Last?
A very long time. Ideally, anyway.
The posts themselves are placed securely under the gum line. They aren't normally subjected to wear and tear, so they should last for several decades. There are conditions that can cause the actual implant to fail but put a pin in that for now.
The restoration, on the other hand, will need to be replaced sooner. How long you can keep them depends largely on how well they're maintained. That said, more than 95% of implants are still successful after 20 years, and some last up to 30. If you brush regularly and floss carefully, they should serve you well for decades to come.
What Can Cause Implants to Fail?
Dental implants are built to last, but there are complications that can cause them to give out prematurely. One such issue can occur soon after the initial procedure is complete. Osseointegration happens during the recovery period as your jaw starts to heal. Your jawbone grows around your implant, securing it in place. This process may not happen correctly, either due to a lack of adequate bone tissue or due to excess pressure placed on the abutments. If your jawbone can't heal properly your implant could come loose, affecting the quality of your smile.
There's also peri-implantitis, a form of infection that weakens the area beneath the gum line. In severe cases this can cause bone decay around the post, causing it to fail. To prevent this, you need to be diligent with your oral hygiene. Brush and floss daily. You should also be careful when you floss; applying too much pressure to the gums can break the seal around the implant, allowing bacteria to enter.
Dental implants can last for decades, but that isn't the same thing as lasting forever. That said, you can be confident that if you take care of your new teeth, they'll take care of you.
About our Practice
At Attleboro Dental Group we want to be your go-to for any procedure you might need, from simple checkups to cutting-edge cosmetic surgery. We have five experienced dentists, each of whom is an expert in their field. We also offer evening and weekend hours so everyone can receive the time and attention they deserve. If you have any questions about dental implants, we can be reached at our website or by phone at (774) 331-0260.