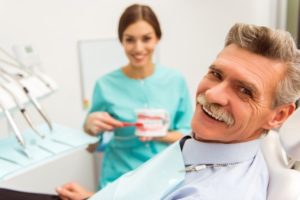 If you have missing teeth, you might feel a little embarrassed about the appearance of your smile. But that's not the only thing you should feel bothered about—perhaps the biggest issue concerning missing teeth is the tendency for additional teeth to fall out, which ultimately affects the integrity of your very jawbone! Fortunately, missing teeth can be replaced thanks to options like dentures and dental implants. But are either one of these options preferable for addressing the potential bone loss that results from missing teeth? Your dentist in North Attleborough can tell you more.
How Missing Teeth Leads to Bone Loss
Simply put, your natural teeth are the best option you have when it comes to biting and chewing—but things can become a little complicated when you have missing teeth. Chewing isn't just the first step of the digestive process; it's also very essential for providing stimulation to your jawbone!
As you bite and chew, pressure from your teeth is exerted downwards through the roots of your teeth and stimulates your jaws, encouraging them to grow and remain healthy. Without this stimulation, your jaws will weaken and prematurely deteriorate, and missing teeth can expedite this process. Insufficient bone density in your jaw can cause all kinds of problems, including a gradual decrease in facial structure that leads to facial collapse. It can also weaken your remaining natural teeth and cause them to fall out!
Dentures VS Dental Implants: Which Is Better for Jawbone Preservation?
Dentures and dental implants are among the two most popular solutions for restoring lost teeth. Dentures are ideal for patients who are missing many or all of their teeth—they're essentially prosthetics that rely on a combination of suction, muscle control, and adhesives to stay in place in your jaws. Dental implants, however, are titanium posts that are surgically embedded into your jawbone; they restore the entire lost tooth's structure from root to crown.
Since dentures aren't permanently affixed to anything inside your mouth, they can easily slip and slide around, and in turn, negatively affect your chewing power. And since they aren't anchor to your jaw, they also don't offer anything in terms of jawbone preservation. In fact, there is even some research that suggests that wearing dentures can even increase bone atrophy, which results in substantial jawbone shrinkage.
Dental implants, on the other hand, can do everything that dentures can do and more, including preventing premature jawbone deterioration! Once they've been implanted, they will naturally fuse with your jaw through a process called osseointegration. This results in unmatched durability and longevity, while also providing you with a complete, beautiful smile. The implants provide your jaw with the same level of stimulation that your natural teeth would.
If you have missing teeth and are weighing your options, something to keep in mind is your jawbone—and while dentures and implants can both restore lost teeth, only one of them can effectively prevent bone loss.
About the Practice
The team at Attleboro Dental Group is honored to serve patients and families in the North Attleborough, MA area under the leadership of five skilled specialists: Dr. William Herr, Dr. Andrew Luccio, Dr. Poya Jafari, Dr. Nancy Mo, and Dr. Aliza Hanif. Their practice is proud to offer several available services including restorative options like dentures. If you have any further questions about dentures or would like to arrange a visit, you can contact the practice through their website or over the phone for assistance: (774) 331-0260.