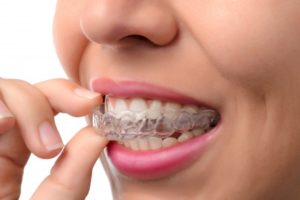 With all the strides in modern dental technology, it's so much easier to get the straight smile you've always envisioned. Invisalign is a treatment that has made orthodontics more convenient and aesthetically pleasing versus the old clunky metal braces of yesteryear. Read on to learn the step-by-step process of Invisalign so you can know what to expect on the journey to perfectly aligned teeth!
Step #1: Consultation
Invisalign can correct a wide range of orthodontic issues, including gapped teeth, overcrowding, and more. However, severely misaligned teeth may require traditional orthodontic treatment instead of clear aligners. During your consultation, your dentist will carefully examine your smile to determine if you are a good candidate for Invisalign.
Step #2: Impressions
If your dentist determines Invisalign is a good option for you, they will take a series of photos, X-rays, and impressions of your teeth for the creation of your custom aligners. This step may occur on the same day as your consultation or during a separate appointment. Your dentist will send the impressions to the Invisalign laboratory where your aligners will be made.
Step #3: Getting Your Clear Aligners
Once your Invisalign trays are ready — typically just a few weeks after impressions are taken — you will return to your dentist's office. They will place your first set of aligners and make sure they fit. You will wear each set of aligners for two weeks at a time for at least 20-22 hours a day before moving on to the next set. Your dentist will also give you tips on how to care for them.
Step #4: Progress Appointments
Throughout the process of wearing Invisalign, you will visit your dentist periodically so they can check on the progress of your teeth. These visits will allow your dentist to ensure everything is on track and make any necessary adjustments.
Step #5 Refinements and Retainers
After you work your way through your initial series of aligners, you might need one or two additional ones at the end of treatment just to make any necessary final adjustments. After you and your dentist are satisfied with the positioning of your teeth, you will receive a retainer.
A retainer's purpose is to prevent your teeth from shifting back out of place. At first, you may need to wear it as much as possible. Eventually, you may only need it at night. Your dentist will continue to monitor your newly straightened teeth and recommend the best plan for you.
Are you ready to get started with Invisalign? With your dentist's help and your commitment, you are steps away from the smile you've always wanted!
About the Practice
Attleboro Dental Group is eager to help you achieve your dream smile through the expertise of its team of dentists. Their goal is to provide high-quality dental care through a comprehensive range of services, including orthodontic care like Invisalign. By using advanced dental technology for a precise fit, their customized plans will help you get the straight teeth you've always wanted. To schedule a consultation, contact them through their website or call (774) 331-0260.