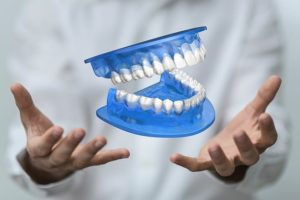 When it comes to modern dentistry, a dentist's experience is one of the most telling factors that determines how well they can care for their patients. However, technology also plays a pretty pivotal role; whether it's the latest new instrument or cutting-edge software, when you pick a dentist that utilizes advanced dental technology, you can expect quicker, more efficient, high-quality treatment. One piece of technology in particular that's making an incredible impact is the 3D printer. Here are just four of the many ways that this device is revolutionizing how dentists care for their patients.
1. Dental Services are Faster & More Accurate
With digital dentistry, the room for error is reduced and the automation greatly decreases labor, resulting in both time and cost savings for labs and practices alike. The technician can start working on the restoration as soon as the copy of the scanning arrives. It also provides a cleaner workplace for them, as they won't have to deal with plaster or grinding dust. The overall level of accuracy is also improved since 3D printers convert digital images into physical objects.
2. Overall Better Patient Experience
3D printers have various applications in dentistry, all of which have the potential to improve a patient's experience. For example, a dentist can use one to create a surgical guide for dental implant placement. The guide ensures that the implants are placed exactly where and how they should be, reducing the risk of complications and facilitating an easier, stress-free recovery time for patients.
3. Reduced Expenses
Saving money is one of the biggest advantages that a 3D printer brings for both patients and dentists alike. The cost of running a dental laboratory is actually much more than the one-time cost of a top-model 3D printer, even when the starting supply of materials is factored in. These printers also reduce the amount of necessary physical labor that goes into the overall process. The lower cost of materials combined with the reduced amount of labor means that patients benefit from reduced costs, too.
4. In-House Oversight
Dentists with 3D printers on-site are bringing the work of dental labs right inside their practice! The dentists themselves are usually able to operate the printers, in order to quickly and easily produce crowns, molds, models, bridges, or anything else that would otherwise be produced by lab technicians.
If your dentist uses a 3D printer, you can rest assured that you'll be receiving the highest-quality dental care imaginable; these machines are truly reshaping the world of modern dentistry!
About the Practice
Attleboro Dental Group is thrilled to serve patients and families in the North Attleborough area! The practice houses five skilled specialists: Dr. William Herr, Dr. Andrew Luccio, Dr. Poya Jafari, Dr. Nancy Mo, and Dr. Aliza Hanif. They're pleased to offer a wide range of preventive, cosmetic, and restorative treatment options. If you have any questions about the article, feel free to contact the practice online or by phone for additional information: (774) 331-0260.