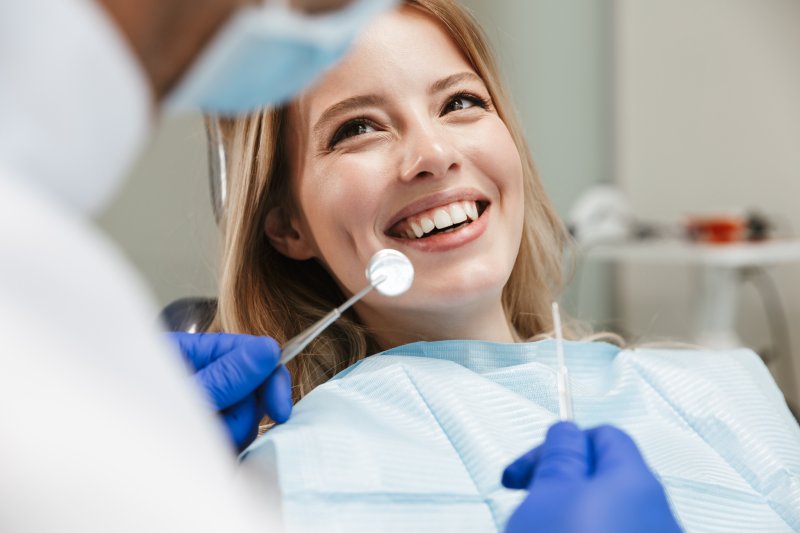 When you think of a "smile makeover," you probably think about its visual aspects. After all, it's a service that combines several kinds of cosmetic dental work. Isn't the whole point of one to make your teeth whiter and prettier? Well, it turns out these makeovers can do more than just beautify your smile. In many cases, they have non-cosmetic benefits too. Learn more in this summary of smile makeovers' non-cosmetic benefits and the treatments they can include.
Other Smile Makeover Benefits
Besides whiter and brighter teeth, a smile makeover offers the following advantages:
A Confidence Boost
Many patients have a boost in confidence once they've had a smile makeover. For instance, they feel better about dates, having dinner with friends and family, and general socializing.
Better First Impressions
A recent study shows that 96 percent of Americans believe an attractive smile is essential to professional and romantic success. Needless to say, your smile is one of the first things others notice about you – and good first impressions help a lot.
Improved Oral Health
Not only will a smile makeover lead to beautiful pearly whites, but it may also lead to health improvements. For instance, your new restorations will improve your bite and enhance your chewing function. As a result, the makeover could strengthen your teeth and gums.
Streamlined Treatment
Compared to getting services individually, smile makeovers maximize your time and budget. Since it combines many cosmetic treatments into one plan, it lets your dentist perform each step in the order that makes the most sense.
Possible Smile Makeover Treatments
Because they involve multiple services, smile makeovers tend to be customizable. You could get various treatments at once, including:
Porcelain Veneers: This treatment applies thin porcelain layers to the front of your teeth. In doing so, it hides smile flaws like tooth stains, chips, cracks, and more.
Teeth Whitening: Dentists can bleach tooth enamel white by applying a gel directly to teeth. The result is a smile that's six to eight shades whiter.
Cosmetic Dental Bonding: Dental bonding puts resin onto teeth. A dentist then shapes and sculpts the material to cover things like stains, cracks, chips, etc.
Metal-Free Restorations: These are fillings, bridges, and crowns that don't use metal. Dentists use them to restore damaged teeth with lifelike results.
As you can see, smile makeovers aren't just good at making teeth pretty. That said, talk to your local dentist to see about getting one for yourself.
About the Practice
Attleboro Dental Group is based in North Attleborough, MA. Led by several excellent dentists, the practice provides comprehensive dental care to its Massachusetts patients. As such, it offers preventive, cosmetic, and restorative dentistry, as well as emergency dental treatments. The staff is also qualified to provide Invisalign and ClearCorrect aligners. For more information or to book an appointment, you can reach them at their website or by phone at (774)-331-0260.